We have created a unique knowledge ecosystem to generate applied innovation
The essence of our collective identity resides in our ECOSYSTEM OF ALLIANCES AND COLLABORATION in which academics, consultants, and professionals participate. The creation of this solid network of alliances and collaboration nodes throughout all these years has allowed us to advance in the field of intangibles and consolidate concepts, create and implement management models and tools, and establish indicators and standards in measurement and reporting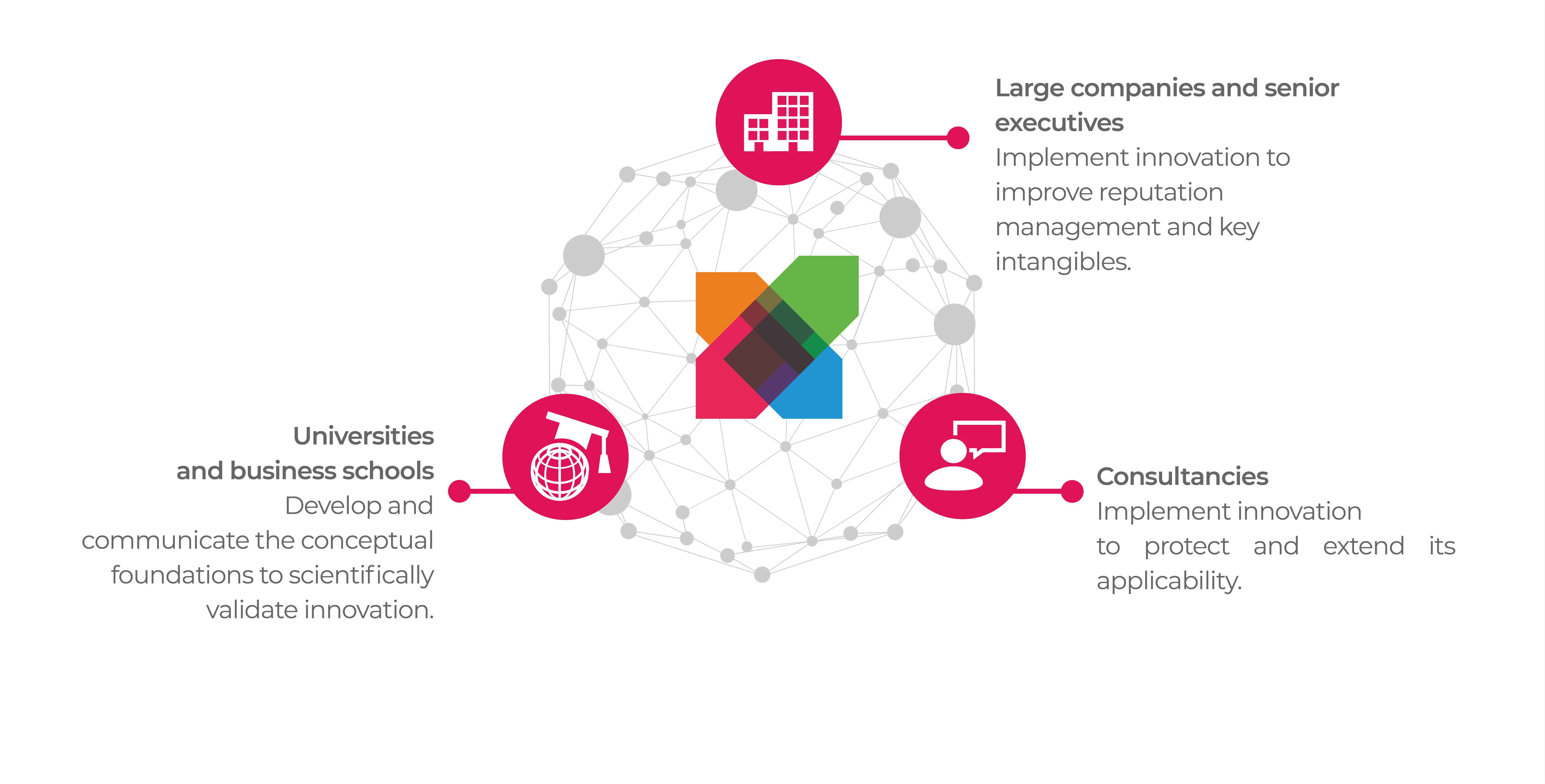 R+D+I MODEL TO CREATE MANAGEMENT TOOLS AND MODELS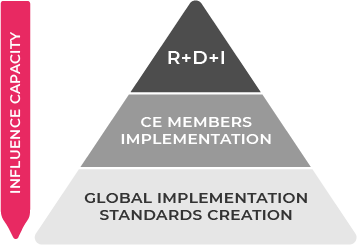 Our R+D+I model is based on generating alliances with leading experts and internationally acclaimed figures in Corporate Excellence's activity areas. Jointly we promote our R+D+I and research projects and compare obtained information to our members' experience.
This first step of innovative cooperation allows us to validate our models and promote the creation of international standards that will strengthen intangibles' management worldwide.
ROAD MAP FOR INTANGIBLES' MANAGEMENT

STEP 1: PURPOSE DEFINITION & BEHAVIOUR ACTIVATION
Identify key stakeholders and their specific touch points.
Definition of identity and purpose (mission, vision and values).
Purpose implementation and activation.
Foundation for differentiation and corporate reputation.
Systematically measuring reputation, brand strength, internal reputation among employees and other key stakeholders.
Creating a non-financial scorecard and evaluating the positive impact of intangible assets in the business.

STEP 3: ORGANISATIONAL MODEL
Organizational transformation to be able to address the expectations of the stakeholders by integrating them on decision making processes.
Through breaking the silos and building bridges across departments.
STEP 4: NON-FINANCIAL INDICATORS & BALANCED-SCORECARD
Add non-financial indicators to traditional financial indicators and link them to compensation programme.
Indicators that should be included in the company core strategy are:
Reputation
Brand Equity
Employee engagement
Employee satisfaction
NPS - Net Promoter Score

STEP 5: VALUE CREATION – TRUST & SUSTAINABLE DIFFERENTIATION
Development of a sustainable differentiation that is unique and helps obtaining social legitimacy and trust.
Know-How developed over 15 years of business practice by Corporate excellence centre for reputation leadership.
Innovation and Knowledge Network
Luis Abril
Experto en intangibles
Juan José Almagro
Exdirector general
MAPFRE
Alberto Andreu
Profesor asociado
Universidad de Navarra
Paul Argenti
Profesor Comunicación Corporativa
Tuck School of Business
Marijke Baumann
Directora
Corporate Communication Centre & Executive MSC in Corporate Communication
Juan Benavides
Catedrático
Universidad Complutense de Madrid
Roger Bolton
Presidente
Arthur W. Page Society
Andrea Bonime-Blanc
CEO y fundadora
GEC Risk Advisory
Jorge Cachinero
Global Advocacy & Government Relations
IRU
Enrique Carreras
Profesor CEU
San Pablo
Craig Carroll
PhD Professor Visiting Scholar &
Adjunt Professor
NYU
Ana Casado
Profesora
Universidad de Málaga
María Fernanda Castillo

Senior Brand Consultant
& Openminders Founder
Joan Costa
Comunicólogo y Catedrático
Universidad Iberoamericana de México
Macarena Estevez
CEO y socia fundadora
Conento
Charles Fombrun
CEO
Reputation Institute
Justin Green
Presidente
Global Alliance
Anne Gregory
Profesora
Universidad de Huddersfield
Oriol Iglesias
Profesor
ESADE
Nicholas Ind

Profesor EUR, Stockholm University & Copenhagen Business School
Mariano Maqueda

Socio fundador
Punto de Fuga
Juan Manuel Mora
Vicerrector Comunicación
Universidad de Navarra
Juan Díez Nicolás
Presidente y fundador
ASEPs
Xavier Oliver

Profesor
IESE
José Ignacio Peláez

Profesor Universidad de Málaga
Director Cátedra de Métricas y Gestión de Intangibles
Italo Pizzolante

Socio fundador
Pizzolante
Fernando Prado

Experto en Gestión de Marca
y Reputación Corporativa
Josep Santacreu

CEO
DKV España
Majken Schultz

Profesora de Comunicación
Copenhagen Business School
Terry Tyrrell

Cofundador
The Brand Union
Cees Van Riel

Director Reputation Forum Netherlands
Profesor de RSM Erasmus University Rotterdam
#we share
Relevant knowledge about intangible assets
Sign up for our newsletter to know what is happening in the intangible economy
Corporate Excellence - Centre for Reputation Leadership
C/Carranza 25, 2.º
28004 Madrid, España
+34 914 45 18 18
info@corporateexcellence.org
Contact